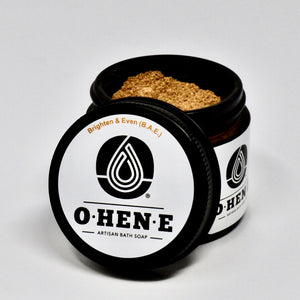 Rejuvenating B•A•E
Sale price Price $40.00 Regular price $40.00
Rejuvenating B•A•E Facial Treatment
DESCRIPTION + USES:
Transform home into a spa day with rejuvenating BAE facial treatment. No, we can't give you a deep tissue massage, but spa day skin is possible in the comfort of your home. Handmade with all-natural ingredients that hydrate & moisturize & deliver key vitamins & minerals. This mask aims to brighten & even out trouble area - resulting in a clear & dewy spa facial look & feel.
In a separate dish, mix 1 teaspoon of dry powder with 1/2 teaspoon of water & stir in to a brown-orangish paste. Apply to freshly cleansed face and let dry for 15 to 20 minutes. Next, fully rinse face mask off & pat dry. Afterward, moisturize with Cell Therapy for the best results. 
Fades marks, gently exfoliates, removes trapped dirt & oil, detoxifies, brighten, nourish, and deliver intense moisture.
INGREDIENTS: roasted pumpkin seed powder, aloe vera powder, colloidal oats, dedicated honey and cocoa powder.
net weight: 60gm. Brush sold separately. 
Considerations
***Test a small dab behind your ear to determine compatibility. If you have any questions or concerns, contact us at info@ohenebeauty.com or via Instagram @ohenebeauty.***