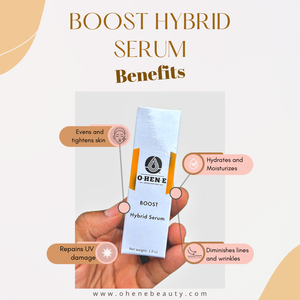 BOOST - Hybrid Serum
Sale price Price $79.95 Regular price $79.95
Boost - Hybrid Serum is a powerful skincare preparation that combines the best of OHENE's facial moisturizers with the hydrating properties of hyaluronic acid and the skin-enhancing benefits of Matrixyl 3000.

Hyaluronic acid is known for its ability to retain moisture, which helps keep the skin hydrated and plump. Matrixyl 3000, on the other hand, is a peptide that specifically targets and stimulates collagen synthesis and repair, which is crucial for maintaining a youthful appearance.

By combining these ingredients, Boost - Hybrid Serum not only hydrates and moisturizes the skin, but it also helps to smooth the appearance of fine lines and wrinkles, improve skin elasticity and texture, and give your skin a rejuvenated look. It's a comprehensive solution for those seeking to maintain healthy, youthful-looking skin.
Size: 1 oz | 30 ml

Boost will revolutionize your skincare routine. With its gentle yet powerful 95% plant-based formula, this serum offers a natural alternative to synthetic skin smoothing products. Experience the incredible transformation as your facial contours visibly smooth within just four weeks of use.

Crafted with over 96% natural ingredients, Boost boasts a unique water + oil matrix formula that effortlessly penetrates your skin, leaving behind a velvety texture. Say goodbye to greasy or sensitized skin, as this serum absorbs like a dream. And the best part? Its aromatic scent will leave you feeling refreshed and rejuvenated, with delicate notes of lemongrass, chamomile, and the enchanting essence of rose and geranium blossoms.

Don't miss out on this extraordinary skincare gem. Elevate your beauty routine with Boost and unlock the radiant, youthful complexion you've always desired.
How to use: 

1. Wash your hands thoroughly and dry them.
2. Squirt 1 pump of the product into your palm.
3. Massage the product into your freshly cleansed and toned skin.
4. Make sure to include your neck and the skin around your eyes.
5. After the product has been fully absorbed, moisturize your skin with O•HEN•E Cell Therapy.
6. Lastly, apply sunscreen to protect your skin from UV damage.sunscreen.
Visible results
Notice improved skin within 30 days
2x more effective than skin firming serums
90% of users say their skin feels and looks healthier
Boost Highlights:
96% natural ingredients

Dermatologically tested
Non-comedogenic
Non UV sensitizing like retinoids
Water + oil based matrix
Ingredients: Distilled water, Rosa Damascena Flower Distillate, Aloe Vera Concentrate (aloe barbadensis), Vegetable Glycerin USP, Sodium Hyaluronate, Benzylalcohol, Dehydroacetic Acid. Butylene Glycol, Carbomer, Polysorbate 20, Palmitoyl Oligopeptide, Palmitoyl Tetrapeptide-7, Camellia Sinensis (Green Tea) leaf extract, Cannabi5 5ativa (H3mp) seed oil, Cucurbita Pepo (Pumpkin) seed oil, Rosa Carina (Rosehip) oil, Adansonia Digitata (Baobab) oil, Moroccan Argania Spinosa (Argan) oil, Cymbopogon (Lemongrass), Geranium, Chamomile, Frankincense, and Ylang-Ylang essential oil blend, Citric acid, Gluconolactone, and Sodium Benzoate.
Sustainability Commitment:
Fully reusable packaging that's more conscious of mother earth.