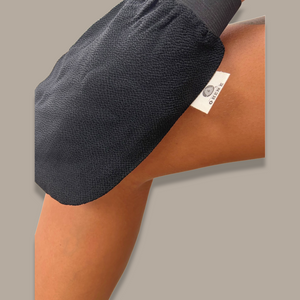 Hammam Exfoliating Mitt
Sale price Price $10.00 Regular price $10.00
Say hello to smooth and vibrant skin. Inspired by a visit to a Turkish bath house in Istanbul, this exfoliating glove helps to remove dead skin, unclog pores, and stimulates collagen production so new skin cells shine through. Gentle enough to use on the face and neck area to decrease buildup and breakouts. Yet strong enough for body parts. Made with premium plant-based fibers and finished with a spandex wristband to hold into place as you exfoliate. Easily hand wash your mitt with OHENE soap and air dry for continued use for up to 6 months. 
How to use: 
Use while bathing 1 - 2 times a week. Wet the mitt and squeeze out excess water and place on hand. Begin massaging the desired area back & forth & in a firm circular motion to remove dead skin. Apply more pressure as needed depending on the area of attention. Avoid sensitive skin and areas above and below the eye. For deep cleansing, apply a small piece of OHENE soap into the center of the glove while exfoliating. For best results, exfoliate while away from running water. 
Ideal uses:
Prevent acne breakouts

Prevent hair bumps

Lift hair for even shave


Smooth and brighten skin 
Size:
Material: 
Soap sold separately.