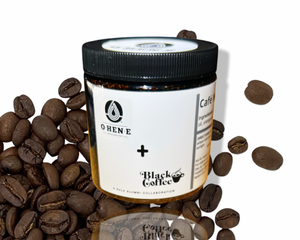 Café Negra - Citrus Coffee Scrub
Sale price Price $25.00 Regular price
Enjoy the exhilarating exfoliation of Café Negra Citrus Coffee Scrub. Handmade with a blend of organic arabica coffee grounds sourced from
The Black Coffee Company
 that leave your skin silky soft after each use This coffee scrub delightfully buffs away rough spots leaving behind only luxuriously moisturized skin. Blended with natural oils and sugar, then finished with the citrus-sweet aroma of naval orange essential oil. Layered with the bold chocolate and caramel notes while also delivering a faint floral hint. Café Negra makes for the perfect scrub for any quick morning polish and every weekend soak.
Benefits: 
> Improved circulation.
> Cellulite appearance. 
> Antioxidants,
> Free radical scavenger, and 
> Dark spot removal.
How to use: After bathing, massage directly into skin, then thoroughly rinse off. 
Ingredients: Organic arabica coffee grounds, organic raw sugar, coconut oil, grape seed oil, sweet almond oil, abyssinian oil, orange essential oil, rosemary leaf extract.
Keep away from eyes and open wounds. If irritation develops, discontinue and inform manufacturer or seller. Store with top on in cool place away from direct sunlight.  
**Not eligible for subscription plans.**