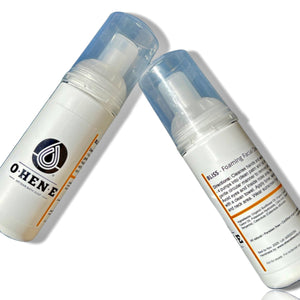 BLISS (F. F.) Cleanser
Sale price Price $7.75 Regular price $8.00
Introducing OHENE "Bliss - Foaming Facial Cleanser," the ultimate skincare solution crafted with care and powered by nature. Experience the invigorating blend of all-natural plant-based oils, combined with the soothing essence of aloe and a refreshing citrusy scent. 
Say goodbye to harsh chemicals and hello to the soothing touch of aloe. Our carefully selected botanicals, enriched with the goodness of aloe, provide a gentle yet effective cleansing experience that washes away clean while also moisturizing. Your skin deserves the tender care of nature's bounty, and Bliss delivers exactly that.
Directions: Cleanse hands and wet face with warm water. Place 2 - 4 pumps into clean palm and rub into face and neck area in a gentle circular manner to remove pollutants, excess oil, and dirt. Avoid eyes and inside nose area. Afterwards, gently pat skin dry with a clean towel. Apply toner, serums and moisturizers to face and neck area. Wear sunscreen if going outdoors. 
Ingredients: Organic Sunflower Oil, Organic Coconut Oil, Organic Extra Virgin Olive Oil, Organic Castor Oil, Potassium Hydroxide, Citric Acid, Organic Aloe. Essential oil blend: Bergamot (Citrus Bergamia), Calendula (Calendula officinalis).
All natural • Paraben free • Certified organic ingredients • Phthalate free • Vegan • Handmade • Cruelty-free
Not for resale. For external use only. Test a small amount behind ear before full application. Keep out of eyes.