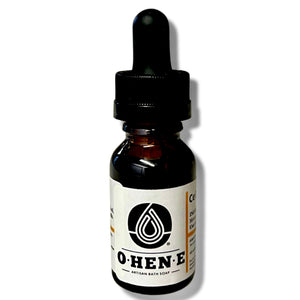 Cell Therapy - 001
Sale price Price $25.00 Regular price $27.75
FACIAL
MOISTURIZER 
- 001
Take your skincare regimen to new levels with OHENE Cell Therapy facial moisturizer. Made with pure vegan carrier oils and fortified with essential botanical oils. Aimed at naturally restoring skin health. 
DESCRIPTION + USES:
Achieve balanced facial moisture with OHENE Cell Therapy Facial moisturizer. Made with a balanced blend of noncomedogenic vegan oils that won't cause clog pores or cause the glossy afternoon look. High in antioxidants, vitamin A, C, and E, zinc and more. Further enhanced with a blend of pure essential oils that deliver numerous botanical benefits. Ideal for dry and normal skin types. 
This blend has a light floral scent with hints of citrus sweetness.  
Gently shake before each use. Drop 4-8 drops onto your clean face and massage into skin. Apply directly to clean skin by dabbing on and gently rubbing in. Keep away from eyes. 
Test behind ear or on wrist before applying to facial area. Apply after washing face. For best results use with O•HEN•E Eucalyptus Hemp, African Black and PURE Soap. 
INGREDIENTS:
H3mp seed oil (Cannab1s sat1va)*, rosehip oil*, baobab oil*, geranium essential oil, chamomile essential oil, ylang-ylang essential oil, frankincense essential oil, Moroccan argan oil*.
net  volume: 15ml
 Benefits:
• Oil regulation
• Lines smoothing
• Hyperpigmentation (dark spots) blending 
• Free radical scavenging 
• Intense hydration
Certified organic *
Certified fair trade >
Sustainably harvested ^